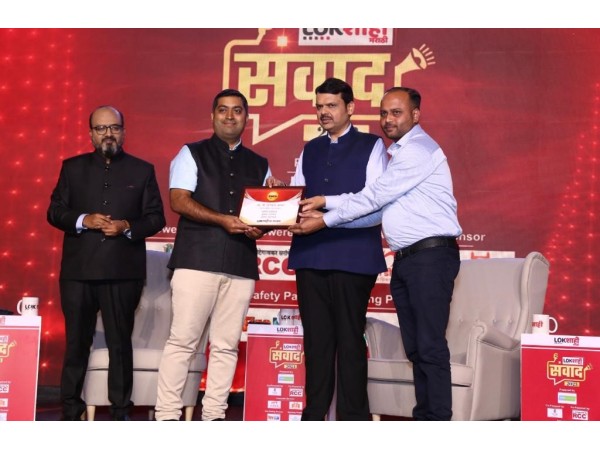 Torus Innotech, founded by Digant Sharma, Vishwas Jadhav, Dnyaneshwar Jadhav, and Pratiush Sharma, Enlists 60,000 Farmers from Maharashtra in Robust Network
Sep 28, 2023
SRV Media
New Delhi [India], September 28: Torus Innotech Private Limited, an innovative AgriTech company, is proud to announce its official launch, marking a significant milestone in the journey of agricultural transformation for Adivasi and Banjara (Tribal) farmers in Kinwat and Mahur taluka of Nanded District in Maharashtra, India. With a strong foundation established over the last four years, Torus Innotech has been empowering 60,000 tribal farmers, predominantly women, through a range of Farmers Producers Companies and sustainable farming practices.
Founded by visionary entrepreneurs Digant Sharma, Vishwas Jadhav, Dnyaneshwar Jadhav, and Pratiush Sharma, Torus Innotech Private Limited is on a mission to not only uplift the lives of these marginalized farmers but also foster environmental sustainability. The company is uniquely positioned to achieve this mission through its extensive network of Farmers Producers Companies (FPCs), tailored to cater to the diverse agricultural needs of the region.
Farmers Producers Companies under Torus Innotech Private Limited:
1.         Torus Farmers Producers Company Ltd
2.         Torus Women's Organic Farmers Producers Company Ltd
3.         Ramashray Farmers Producers Company Ltd
4.         Shreedevrath Farmers Producers Company Ltd
5.         Shreecharnarth Farmers Producers Company Ltd
6.         Orgohills Farmers Producers Company Ltd
7.         Mahur Farmers Producers Company Ltd
Each FPC has been established with the aim of empowering farmers by promoting sustainable and organic farming practices. Torus Innotech recognizes the pivotal role of women in agriculture and is committed to supporting them through specialized initiatives under Torus Women's Organic Farmers Producers Company Ltd.


Few Investment Categories: -
1.         Farmers Market - INR 20,00,000 or USD 25,000
2.         Fruits and Vegetable Shop - INR 40,00,000 or USD 50,000
3.         Farmers Input Center (Pesticides and Seeds) - INR 3,00,00,000 or USD 3,60,000
4.         B2B Supply - INR 3,00,00,000 or USD 3,60,000
5.         Krishi Vigyan Kendra - INR 100,00,00,000 or USD 1,20,12,000
For Donation:-
1.         Reducing Farmers Suicide.
2.         Sustainable farming, organic farming and improving carbon footprint.
3.         Eradicating extreme hunger and poverty.
4.         Promotion of education.
5.         Promoting gender equality and empowering women.
6.         Ensuring environmental sustainability,
7.         Employment enhancing vocational skills, social business projects for tribals and women.
8.         Relief and funds for the welfare of the Scheduled Castes, the Scheduled Tribes, other backward classes, minorities and women and such other matters as may be prescribed.
In addition to these FPCs, Torus Innotech Private Limited is dedicated to fostering various types of farming, including organic, regenerative, sustainable, community, and group farming, tailored to the unique needs of the tribal communities it serves. These farming practices aim to improve crop yields, enhance soil health, and promote ecological balance while ensuring the economic well-being of the farmers. Toru has successfully implemented a comprehensive farm-to-retail model, encompassing farmer education, procurement, cleaning and grading processes, and distribution through our outlets. We efficiently deliver quality goods to end customers through our stores, B2B partnerships, or farmers' markets.
Technology is at the heart of Torus Innotech's approach to sustainable agriculture. The company leverages cutting-edge solutions, including digital farm mapping, drones for precision agriculture, carbon credit trading to reward sustainable farming practices, and automatic weather stations for smart agriculture. Furthermore, Torus Innotech operates an advisory-based input center to provide farmers with expert guidance on optimizing their farming processes.
Digant Sharma, Co-Founder and CMD of Torus Innotech Private Limited, expressed his enthusiasm about the company's mission, saying, "Our journey over the past four years has been a testament to the resilience and dedication of Adivasi and Banjara farmers. Torus Innotech is committed to nurturing their aspirations and providing them with the tools and knowledge to thrive sustainably."
Vishwas Jadhav, Co-Founder and CEO, added, "We firmly believe that sustainable agriculture is the key to the future, and we are proud to support our tribal farmers on this transformative journey. If we can work with the tribals then general farmers is a cakewalk with our experienced team."
Dnyaneshwar Jadhav, Co-Founder and COO, added, "With my 15 years of operational experience in agriculture I believe we will improve lives of millions of farmers across India."
Pratiush Sharma, Co-Founder and Director, added, "With my base in Germany I will be exploring the international market across Europe."
Torus Innotech Private Limited's initiatives are not just limited to agriculture; they also extend to social development and community empowerment through their NGO, Painganga Foundation.
With its focus on uplifting marginalized farmers and fostering environmental sustainability, Torus Innotech Private Limited is poised to make a lasting impact on the agricultural landscape of India. The company invites partners, investors, and stakeholders to join them in this transformative journey towards a more sustainable and prosperous future for tribal farmers.
For more information:-
Contact:-
*          Name – Digant Sharma
*          Mobile - +91-9769999960 , +91-9920808363
*          Email – im@digantsharma.com  , contact@torusinnotech.com  
*          Website – www.torusinnotech.com 
Torus Innotech Private Limited is an AgriTech company founded by a team of visionary entrepreneurs dedicated to transforming agriculture in India. With a specific focus on empowering Adivasi and Banjara (Tribal) farmers, particularly women, in Kinwat and Mahur taluka of Nanded District in Maharashtra, the company operates through a network of Farmers Producers Companies (FPCs) and leverages advanced technology to promote sustainable farming practices. Torus Innotech is headquartered in Thane and has been actively serving the tribal farming community for the past four years.
Painganga Foundation is an NGO to enhance the well-being and livelihoods of marginalized farmers and their families. Through various social development programs, Painganga Foundation aims to uplift the tribal communities and promote sustainable living.
(ADVERTORIAL DISCLAIMER: The above press release has been provided by SRV Media. ANI will not be responsible in any way for the content of the same)