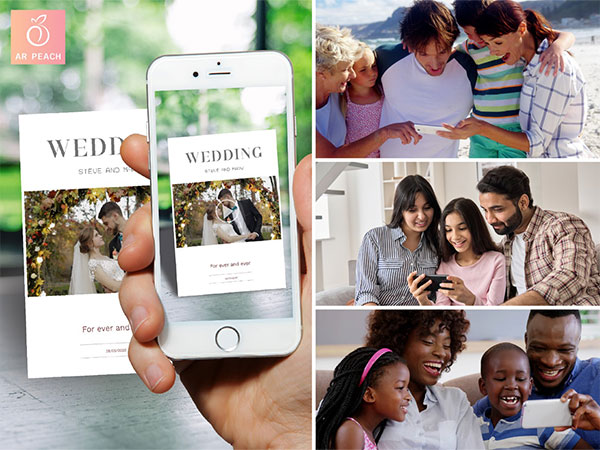 Indian Tech start-up AR Peach is Revolutionising Photography with Living Photos
Nov 21, 2023
India PR Distribution
New Delhi [India], November 21: Indian tech start-up AR Peach is making waves in the photography space with its revolutionary product, AR Peach Photos. This innovative technology transforms ordinary photographs into immersive, living experiences, adding a new dimension to the age-old practice of reliving cherished memories captured in still frames.
You could experience an AR Peach Photo here.
Nithin Krishna M, the CEO and Founder of AR Peach, draws inspiration from the rich history of photography, spanning 197 years from the first official photo captured by Joseph Nicephore Niepce in 1826 to the present. According to Nithin, the emotional impact of reliving a photo remains the essence of the photography industry's enduring success. With AR Peach Photos, the company seeks to amplify this magic by introducing digital layers of video and magical 3D elements to conventional photographs.
Unlike traditional augmented reality applications, AR Peach Photos doesn't require users to download a separate app. By simply scanning the photo with a mobile phone, users unlock a captivating blend of videos and 3D elements, breathing life into their captured moments.
Nithin emphasizes that the content preferences of different generations vary significantly, prompting AR Peach to incorporate a diverse range (both physical & digital) of content to appeal to everyone, from baby boomers to Gen Z. The aim is to create a hyper-immersive experience that triggers dopamine hits across various age groups.
AR Peach Photos has already gained traction in its initial two months, with over 100 photographers partnering with the brand and exceeding half a million scans. Encouraged by this positive response, AR Peach plans to expand its reach globally, targeting markets in the USA, Canada, UK, Australia, and New Zealand.
Apart from AR Peach Photos, the company has introduced two additional sub-brands: AR Peach Tech and AR Peach Merch. AR Peach Tech offers a white-label service, specialising in crafting custom augmented reality apps and experiences for businesses. Meanwhile, AR Peach Merch focuses on integrating AR digital layers into physical merchandise, introducing a unique line of Phygital products, including AR Greeting Cards, AR Wall Art, AR Toys, and more.


Nithin Krishna M concluded by expressing AR Peach's mission to make the world more immersive with augmented reality, citing the success of AR Peach Photos as a significant indicator that the company is on the right track.
(ADVERTORIAL DISCLAIMER: The above press release has been provided by India PR Distribution. ANI will not be responsible in any way for the content of the same)