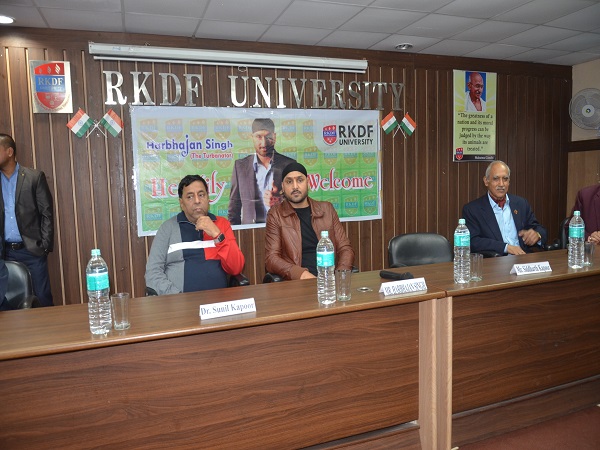 Dr Sunil Kapoor Bhopal Announces The Organization Of Inter-Institution Cricket Tournament To Be Held For The Year 2023 In Tie Up With SRK University
Nov 21, 2023
SRV Media
Bhopal (Madhya Pradesh) [India], November 21: In a momentous collaboration, Dr Sunil Kapoor Bhopal, a prominent figure in the town, is thrilled to announce the organization of the Inter-Institution Cricket Tournament for the year 2023. This exhilarating event is set to take place in collaboration with SRK University, promising a cricketing extravaganza that will not only showcase exceptional sportsmanship but also foster a sense of camaraderie among participating institutions.
The Inter-Institution Cricket Tournament has become a hallmark event in Bhopal's sporting calendar, and Dr Sunil Kapoor Bhopal's commitment to promoting sports and unity is evident in this year's partnership with SRK University. The tournament aims to provide a platform for talented cricketers from various institutions to showcase their skills, fostering healthy competition and promoting the spirit of sportsmanship.
The collaboration with SRK University adds an extra layer of excitement to this year's tournament. Known for its commitment to academic excellence and holistic development, SRK University brings its ethos of discipline and determination to the sporting arena. This tie-up underscores the importance of integrating sports with education, recognizing the role of physical activity in overall well-being.
The tournament is expected to draw participation from a diverse array of institutions, ranging from colleges and universities to other educational establishments in and around Bhopal. Dr Sunil Kapoor Bhopal expresses his optimism about the enthusiastic response from institutions, emphasizing the inclusive nature of the tournament. He believes that such events play a pivotal role in fostering a sense of community and mutual respect among students.


As the organizing committee gears up for the tournament, meticulous planning is underway to ensure a seamless and enjoyable experience for both participants and spectators. The tournament will feature a league format followed by knockout rounds, culminating in an electrifying final that promises to be a fitting conclusion to the cricketing spectacle.
In addition to the competitive aspect, the Inter-Institution Cricket Tournament will incorporate initiatives to promote fair play and ethical conduct on the field. Dr Sunil Kapoor Bhopal emphasizes the importance of instilling values such as integrity, respect, and teamwork, highlighting that these qualities are as crucial on the cricket pitch as they are in the broader spectrum of life.
The tournament is not just about cricket; it's a celebration of talent, resilience, and the indomitable spirit of youth. Spectators can expect nail-biting matches, brilliant displays of skill, and moments of sportsmanship that transcend the boundaries of competition. Dr Sunil Kapoor Bhopal envisions the tournament becoming a catalyst for building lasting friendships and forging connections that extend beyond the cricket field.
As the tournament date approaches, the anticipation in Bhopal is palpable. Cricket enthusiasts, students, and the local community eagerly await the kick-off, with the tournament poised to be a focal point of social interaction and engagement. Dr Sunil Kapoor Bhopal acknowledges the role of such events in bringing people together, transcending demographic and societal boundaries.
In the spirit of fostering talent, the tournament will also feature a talent hunt initiative, providing an opportunity for young and aspiring cricketers to showcase their skills in front of scouts and selectors. This additional facet of the event aligns with Dr Sunil Kapoor Bhopal's commitment to nurturing and promoting emerging talent, creating a pathway for the next generation of cricketing stars.
The collaboration with SRK University Bhopal extends beyond the cricket field, with plans for interactive sessions, workshops, and discussions on the synergy between sports and education. This holistic approach aims to inspire students not only to excel in their academic pursuits but also to embrace the values of discipline, teamwork, and perseverance that sports instill.
To ensure the widest possible participation, the tournament will include categories for men's and women's teams, promoting gender inclusivity in sports. Dr Sunil Kapoor Bhopal emphasizes the importance of providing equal opportunities for both genders, recognizing the talent and potential that exist across all segments of society.
Local schools are also encouraged to be part of the festivities, with a dedicated segment for junior teams. This inclusion of young talent not only adds a layer of innocence and exuberance to the event but also sets the stage for future cricketing stars to emerge from the grassroots level.
The organizing committee is leaving no stone unturned to create a memorable experience for everyone involved. Plans for live streaming, engaging commentary, and interactive fan zones are underway to ensure that even those unable to physically attend can be part of the excitement. This multi-dimensional approach aligns with the modern era of sports events, leveraging technology to enhance the overall viewer experience.
In the midst of all the fervor, Dr Sunil Kapoor Bhopal extends his gratitude to the local authorities, sponsors, volunteers, and everyone contributing to making this event a reality. Their collective efforts reflect the community's commitment to promoting sports as a catalyst for positive change and community building.
In conclusion, the forthcoming Inter-Institution Cricket Tournament stands as a testament to the power of collaboration, sportsmanship, and community spirit. Dr Sunil Kapoor Bhopal's vision, coupled with the support of SRK University and other stakeholders, is set to unfold on the cricket field, creating memories that will resonate long after the last ball is bowled.
Local businesses and sponsors are also showing keen interest in supporting this sporting extravaganza, recognizing the significance of such events in contributing to the community's vibrancy. The organizers are grateful for the enthusiastic response from potential sponsors and partners, whose involvement will undoubtedly enhance the overall experience for everyone involved.
In conclusion, the announcement of the Inter-Institution Cricket Tournament for the year 2023 in collaboration with SRK University marks a significant milestone in Bhopal's sporting landscape. Dr Sunil Kapoor Bhopal's vision of combining education with sports reflects a holistic approach to youth development. As the excitement builds and preparations intensify, the stage is set for a memorable tournament that will undoubtedly leave a lasting impact on participants and spectators alike. Stay tuned for updates as Bhopal gears up to witness the spirit of cricket unfold in all its glory!
For More Information:
PR Name: SRK University
Contact Number- 07554911204
Email- info@srku.edu.in
Visit their website to know about their regular updates.
Website- https://the-dr-sunil-kapoor-bhopal.in/
(ADVERTORIAL DISCLAIMER: The above press release has been provided by SRV Media. ANI will not be responsible in any way for the content of the same)