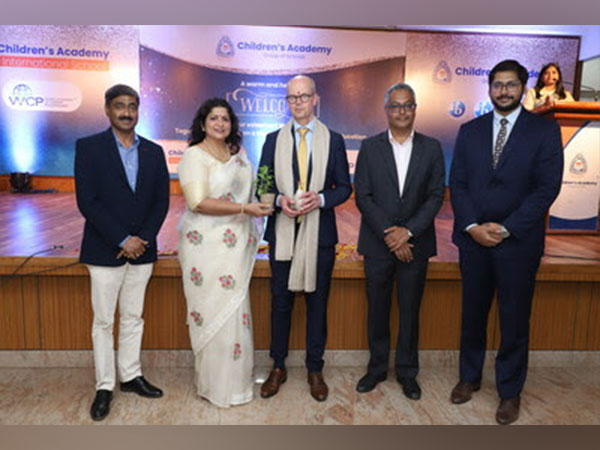 Children's Academy welcomes International Baccalaureate delegation led by Olli-Pekka Heinonen
Jun 02, 2023
PRNewswire
Mumbai (Maharashtra) [India], June 2: Children's Academy Group of Schools is expanding its horizon to K12 education as it forays into the international arena. The Academy is now officially authorised from the International Baccalaureate Organisation to offer the International Baccalaureate Career Program (IBCP).
In this regard, the senior leadership team from IB visited the school on 01 June 2023. It was a privilege and an honour to welcome Olli-Pekaa Heinonen, Director General-IB, to the new international wing. The school was incredibly happy to host the other members of this team - Dr Nicole Bien, Chief Schools Officer (IB), and Mahesh Balakrishnan, IB - Business and Development Officer, India and Nepal.
The visit of this high-profile team was to acknowledge and recognize the high standard of education in the school that meets international benchmark. Children's Academy is well-known for providing quality education which is progressive and futuristic. Continuing with this tradition, Children's Academy International School aims to impart skill-based education through the IBCP course.


The guests were accorded a traditional welcome highlighting the rich Indian culture. The students put up a colourful Lezim, the lively folk dance from Maharashtra, leaving everyone awe-struck with their energy!
During the formal function, the guests were mesmerized by the mellifluous welcome song and the splendid recital of Bharatnatyam and Kathak dances, performed by the talented students of the school.
Rohan Bhat, Chairman, CAGS, in his welcome address, said, "The vision and mission of Children's Academy is aligned to the IB philosophy. The IB program is at the pinnacle of education owing to its excellent curriculum that emphasizes on value and skill development which aligns with our ideology of education. I am confident of our dedicated team which is engaged in nurturing the young minds to become passionate and responsible leaders of tomorrow."
Ronit Bhat, Group Communication Head and IBCP coordinator presented a detailed school report highlighting its unique initiatives of the school in the field of mental health, gender sensitization, SEL, alumni connect, state darshans, inclusion and diversity to mention a few.
During his visit to Children's Academy International School, the IB Chief Mr Olli-Pekka expressed his delight and appreciated the vision and the forward-thinking philosophy of Children's Academy. He mentioned that IB came into force in the year 1968 and Children's Academy was founded around the same time in 1970. He was pleased to add that the two organisations of similar age are getting together for developing active, compassionate and life-long learners.
On behalf of Children's Academy Group of Schools, Mr Rohit Bhat, CEO, expressed,"The Academy is truly honoured by the presence of Mr Olli-Pekka and his team. We are excited about our journey with IB. I am thankful to the team and extended my gratitude for the insights provided by the IB team during their visit."


The Children's Academy Group of Schools was founded as a small school in a two room rented premises with a handful of students by the Late Shri V.V. Bhat in 1970. It shifted to a fully constructed seven-storied building at Bachani Nagar, Malad East in 1991. Today, it has grown to three schools catering to over 8000 students with 450 qualified and dedicated teachers. The other two branches are at Ashok Nagar and Thakur Complex.
Website:

Media Contact:
Shraddha Bhat


+91 9819968056
(Disclaimer: The above press release has been provided by PRNewswire. ANI will not be responsible in any way for the content of the same)