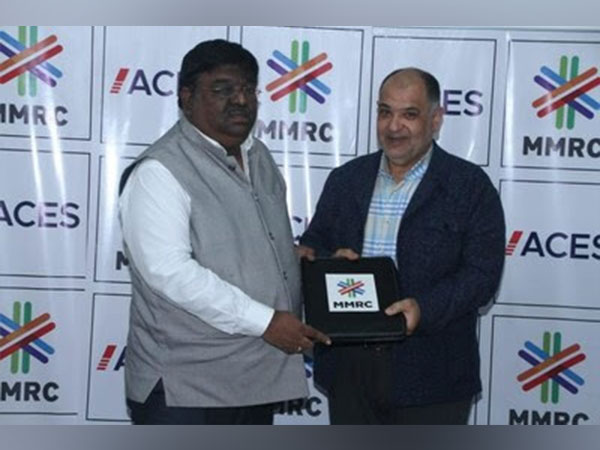 ACES wins Mumbai's First and Longest Underground Metro Line serving over 600 Million Annual Passengers
Sep 28, 2023
PRNewswire
Mumbai (Maharashtra) [India], September 28: Mumbai Metro Rail Corporation Limited (MMRC) awarded 9 years contract to ACES India Private Limited, a wholly owned subsidiary of Advanced Communications and Electronics Systems Company (ACES) Saudi Arabia for providing Mobile Infrastructure Services including 4G and 5G services.
ACES will equip India's longest underground metro line with State of Art mobile telecom infrastructure with 4G and 5G technologies and will cover the entire stretch of 33.5 Kilometers line, which includes 27 stations, platforms, concours, and tunnels. Thus, providing Metro's 1.6 million passengers per day with seamless coverage and enhance mobile data speeds.
Dr Akram Aburas, CEO of ACES expressed his pride association with this prestigious project and explained ACES future vision as International Neutral Digital Infrastructure Company. He also confirmed that the contract aims to create a modern and intelligent environment for Metro's passengers, travelers and its employees a seamless highspeed mobile service experience.
MMRC Management expressed happiness in partnering with ACES, which aims to equip its longest underground Metro Line-3 with a state of art 4G and 5G Mobile Infrastructure for an exclusive period of 9 years and will neutrally cater 600 million Passengers annually.
The award process was led by Ashwini Bhide - Managing Director, R. Ramana - Director (Planning & Real-estate dev./ NFBR), Swetal D. Kanwalu - Deputy General Manager (Town Planning) and Ms. Farha Irani - Assistant General Manager (Town Planning) and others from MMRC.
R. Ramana - Director (Planning & Real-estate dev./ NFBR) expressed happiness for the annual premium offered by ACES being the highest in the country. This endeavor will strongly support Metro Line-3 operations and enhance user experience.


The LoA was received on 26-September-2023 by Dr Akram Aburas - CEO of ACES, Mohammed N. Mazher - Managing Director of ACES India Pvt. Ltd., along with other management team members from ACES.
ACES India Private Limited based in India is a wholly owned subsidiary of Saudi Company ACES. ACES is one of the leading International Digital Infrastructure company in Middle East, South East Asia and Europe. Several important projects have already been implemented, most notably the expansion of the Holy-Mosque in Makkah, Riyadh Metro, Jeddah Airport, Riyadh Airport, MASAR and international projects like Bangalore Airport, Surat Diamond Bourse, Taj Hotel and others. https://www.aces-co.com/
Mumbai Metro Line - 3 (MML - 3) is one of such key projects to improve the transportation scenario in the financial capital of India i.e. Mumbai. MML-3 project - a 33.5 km. long corridor running along Colaba-Bandra-SEEPZ, envisages to decongest the traffic situation in Greater Mumbai. Mumbai Metro Rail Corporation Limited (MMRC) is the nodal agency responsible for the implementation of Mumbai Metro Line–3 (MML-3) project. It has been constituted as a JV of the Govt. of India (GoI) and the Government of Maharashtra (GoM) on 50:50 sharing basis. https://mmrcl.com/
Photo: https://mma.prnewswire.com/media/2223194/Director_and_CEO_of_ACES.jpg
Photo: https://mma.prnewswire.com/media/2223196/LoA_Ceremony_held_at_MMRC_office.jpg
(ADVERTORIAL DISCLAIMER: The above press release has been provided by PRNewswire. ANI will not be responsible in any way for the content of the same)