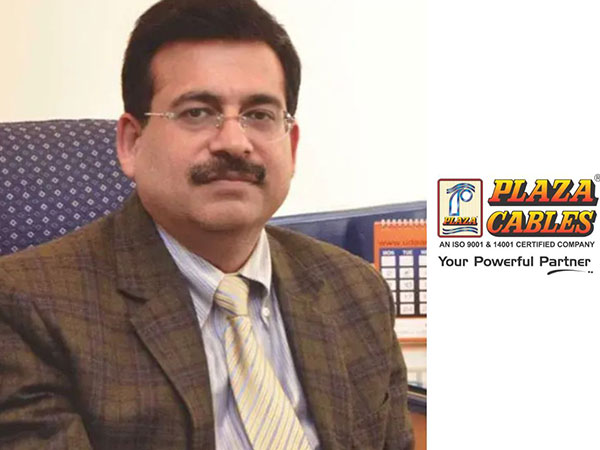 Plaza Wires Ltd plans Public Issue of up to Rs. 71.28 crore to fund its expansion plans
Sep 25, 2023
PNN
New Delhi [India], September 25: Plaza Wires Ltd, company in the business of manufacturing, marketing and selling of wires, aluminium cables and fast moving electrical goods is planning to raise up to Rs. 71.28 crore from its public issue. Company has fixed price band of Rs. 51-54 per equity share. The fresh issue of 1.32 crore equity shares will open for subscription on September 29 and closes on October 4. Company plans to use issue proceeds towards capital expenditure for setting up a new manufacturing unit for house wires, fire-resistant wires & cables, aluminum cables, solar cables to expand the product portfolio, funding working capital requirements and general corporate purposes.
The company's shares shall be listed in the BSE & NSE. Pantomath Capital Advisors Pvt Ltd is the Lead Managers to the public issue and Kfin Technologies Ltd is the registrar.
Company has manufacturing facility at Baddi with an installed production capacity of 12,00,000 coils of standard size per annum. Company proposed to utilize Rs. 24.4 crore from the IPO proceeds towards setting up a manufacturing facility to add 8,37,000 coils per annum and manufacture new products such as fire-proof/survival wires, LT aluminium cables and solar cables. Company plans to utilize Rs. 22 crore from the public issue for working capital requirement and remaining for general corporate purposes.
Company has fixed price band of Rs. 51-54 per equity share for the fresh issue of 1.32 crore equity shares of face value Rs. 10 each. The minimum lot size for the application is 277 shares and multiple thereof. Retail investor and HNI quota for the IPO is kept at not more than 10% and 15% of the issue respectively while QIB quota is kept at a not less than 75% of the issue.


Sanjay Gupta, Managing Director, Plaza Wires Ltd said, "As a part of our growth strategy our focus is on increasing revenue through achieving operational efficiency, consistently delivering quality products and enhance goodwill in the market through product expansion and geographical outreach. We strongly believe that with the proposed public issue, we will be able to execute our growth strategy in a manner that creates exponential value for all stakeholders while consistently delivering quality products."
Incorporated in 2006, Plaza Wires Limited is engaged in the business of manufacturing, marketing and selling of wires, aluminium cables and fast moving electrical goods (FMEG) under its flagship brand "PLAZA CABLES" and home brands such as "Action Wires" and "PCG". Plaza Wires was originally incorporated as Navratna Wires. Its key products in the wires and cables segment include house wires, single & multicore round flexible industrial cables and industrial cables for submersible pumps & motors up to 1.1kv grade. The company also provides other wires and cable products such as LT power control cables, TV dish antenna co-axial cables, telephone & switchboard industrial cables, computer & LAN networking cables, close circuit television cables and solar cables, PVC insulated tape, and PVC conduit pipe etc.
As part of after-sales service for electric fans, the company has tied up with more than 20 service centers in Uttar Pradesh, Uttarakhand, Jammu and Kashmir, Punjab, Haryana and Tamil Nadu. In 2021, Plaza Wires expanded its product portfolio by launching miniature circuit breakers and distribution boards (DB) in the north and south Indian regions. As of March 31, 2023, the company has over 1249 authorized dealers and distributors, 3 branch offices in Rajasthan, Uttarakhand, and Uttar Pradesh, 1 branch office cum godown at Maharashtra, 4 warehouses in Uttar Pradesh, Assam, Kerala and Delhi, and C&F agent in 1 state, viz. Punjab.
The financial performance of the company has exhibited considerable progress over the years, demonstrating growth and stability. For FY22-23 company reported revenue of Rs. 182.60 crore and net Profit of Rs. 7.51 crore. As on March 2023, Net worth of the company stands at Rs. 53.08 crore and Reserves & Surplus at Rs. 22.53 crore.
(ADVERTORIAL DISCLAIMER: The above press release has been provided by PNN. ANI will not be responsible in any way for the content of the same)